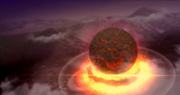 Tensou Tsuisei
 ist ein Kombinations-Nin-Jutsu von Obitound Madara Uchiha. Zuerst schießt Obito mit Mokuton: Sashiki no Jutsu mehrere Holzspeere auf den Gegner und lässt den Holzspeer im Körper des Gegners so wachsen, dass der Gegner von Holz umschlossen und in den Boden hinein gerammt wird. Mit Holzversteck: Unterirdische Wurzelnlässt er Wurzeln in die Luft wachsen, die den Gegner gefangen halten. Als Letztes lässt Madara mit Tengai Shinseieinen Meteoriten auf ihn zufliegen. 
Ad blocker interference detected!
Wikia is a free-to-use site that makes money from advertising. We have a modified experience for viewers using ad blockers

Wikia is not accessible if you've made further modifications. Remove the custom ad blocker rule(s) and the page will load as expected.