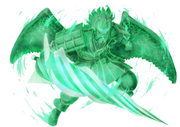 Shisui Uchiha Edit
Edit
In the Ninja Escapades special included with Ultimate Ninja Storm Revolution, Shisui Uchiha can use a green Susanoo, even after Danzō stole his right eye. It has blade-like appendages on its shoulders, the side of its face, and along its forearms. Its right arm wields a drill-like lance that Shisui can coat with fire to create a vortex of flames. It is also able to unleash a barrage of chakra needles.
Ad blocker interference detected!
Wikia is a free-to-use site that makes money from advertising. We have a modified experience for viewers using ad blockers

Wikia is not accessible if you've made further modifications. Remove the custom ad blocker rule(s) and the page will load as expected.