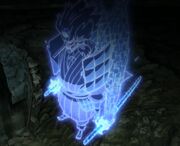 Susanoo is a gigantic, humanoid being made of the user's chakra that surrounds them and fights on their behalf. It is the strongest ability available to those who have the Mangekyō Sharingan, and in fact is the rarest to achieve.[2] In order to use this ability, the wielder must have awakened the Mangekyō Sharingan in both eyes.
[3]Attributes Edit
When activated, Susanoo forms around the user and becomes an extension of their will, acting and attacking on their behalf. By default, Susanoo is anchored to its user and they to it: in its less developed forms it will move around with the user; in its more completed forms the user will be suspended within Susanoo, being brought with it as it moves around.[4] This connection allows Susanoo to shield against physical attacks, one that becomes more difficult to penetrate as it is manifested more fully. If it is damaged, Susanoo does not regenerate and it can only be repaired either by advancing it to the next developmental stage or by dispersing it and then forming it anew.
Although Susanoo is quite effective as a defence, it is able to distinguish in what it blocks. For example, the user can still perform jutsu while within Susanoo and the attacks will pass through it without complications.[5] Others can be brought within Susanoo with the user's permission,[6] and users can likewise choose to leave Susanoo's protective envelope.[7] The latter property can be used against the user, as if an opponent can bypass Susanoo, however slightly and latch onto them, they can be pulled out of Susanoo.[8] Susanoo is also only able to defend against physical attacks, so they are still vulnerable to visual[9] or auditory attacks.[10]
So long as it is active, Susanoo draws on the user's chakra in large amounts. Sasuke Uchiha describes the sensation of using Susanoo as feeling pain in every cell in his body, which only increases over time and at higher developmental stages.[11] Being a Mangekyō Sharingan-based ability, it also places a strain on the user's eyes the more it is used. However, it is not actually necessary for one's Mangekyō Sharingan to be active while using Susanoo;[12] in fact, Madara Uchiha is able to use it without any eyes at all.