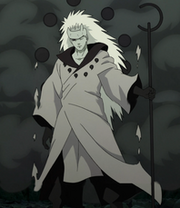 Madara Uchiha (うち は マダラ, Uchiha Madara) adalah shinobi legendaris yang memimpin klanUchiha sebelum dan setelah pembentukan Konohagakure. Setelah bersekutu dengan saingannya,Hashirama Senju dari klan Senju, ia dan klannya membantu dalam pendirian Konoha. Dia akhirnyadatang untuk bertarung dengan Hashirama, dan menghianati desa. 
Kemudian tampaknya Madara dibunuh oleh saingannya di pertempuran di Lembah Akhir, tetapi sebenarnya bersembunyi untuk memulai Rencana Baru, yang dikenal sebagai Rencana Mata Bulan, yang dilanjutkan dengan Obito Uchiha yang kemudian bergabung dengan dia. Madarabereinkarnasi dengan tepat pada saat Perang Dunia Keempat Shinobi, dan kemudian dihidupkan kembali sebagai orang hidup dengan Obito. ia adalah salah satu antagonis utama dari alur cerita .Setelah menangkap semua Bijju setelah kekalahan Obito dan menghidupkan kembali dirinya sekali lagi, Madara Menjadi Jinchuriki ketiga Juubi. 
Penampilan Madara Telah Tampak Berbeda.Ia sekarang menggunakan pakaian Rikudo Sannin dilengkapi dengan kalung berbentuk magatama 6 buah yang menempel dibajunya warna dasar baju putih dan bagian dalam berwarna gelap.Rambut Madara yang semula hitam menjadi putih dan Madara memiliki 2 tanduk.
Dibagian belakang Madara Tampak terlihat memiliki bola hitam melayang yang mengintarinya dan motif 10 magatama dibagian belakang baju serta Tongkat Rikudo Sannin yang terlihat tak sempurna.
Kemampuan Madara Uchiha saat menjadi Rikudo Sannin drastis Dari segi kekuatan kecepatan hingga hal-hal lain belum diperlihatkan.walapun belum diperlihatkan namun ketika dia baru mendapatkan mata kanannya Madara menggunakan jutsu bernama Rinbo Hengoku yng mampu mementalkan kesembilan Bijju
Ad blocker interference detected!
Wikia is a free-to-use site that makes money from advertising. We have a modified experience for viewers using ad blockers

Wikia is not accessible if you've made further modifications. Remove the custom ad blocker rule(s) and the page will load as expected.