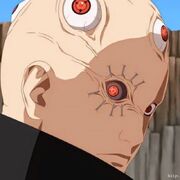 Shin Uchiha
 (うちはシン, 
Uchiha Shin
) is a former test subject of Orochimaru. After developing a fixation on theUchiha clan and more specifically, Itachi Uchiha, Shin took the Uchiha name for himself and left Orochimaru, taking his "sons" with him. Believing that peace was detrimental to human evolution, Shin began a plot to revive the Akatsuki so that the ensuing conflict would be a catalyst to further human evolution.
Ad blocker interference detected!
Wikia is a free-to-use site that makes money from advertising. We have a modified experience for viewers using ad blockers

Wikia is not accessible if you've made further modifications. Remove the custom ad blocker rule(s) and the page will load as expected.