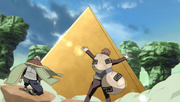 Nama
Kanji: 砂漠層大葬封印 Rōmaji: Sabaku Sōtaisō Fūin Harfiah (Inggris): Desert Layered Imperial Funeral Seal Viz manga : Grand Sand Mausoleum Seal Lainnya: Imperial Funeral Seal (大葬封印, Taisō Fūin)
Debut Manga: Chapter #658
Data Klasifikasi: Ninjutsu, Fuuinjutsu, Juinjutsu, Tailed Beast Skill, Jutsu Kolaborasi Tipe: Serangan, Segel Jarak: Segala Jarak
Pengguna Gaara Shukaku
Menggunakan pasir tubuhnya sendiri sebagai media, Shukaku pertama menutup lawan dalam lapisan pasir, yang membentuk piramida. Tanda-tanda yang rumit pada tubuh tanuki kemudian berfungsi sebagai segel terkutuk yang saling terhubung. 
Ad blocker interference detected!
Wikia is a free-to-use site that makes money from advertising. We have a modified experience for viewers using ad blockers

Wikia is not accessible if you've made further modifications. Remove the custom ad blocker rule(s) and the page will load as expected.