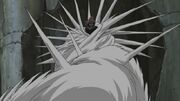 This technique uses chakra to temporarily enhance the head's metabolism and manipulate the hair that grows longer as a result of it. There is also chakra flowing through the lengthened hair, making its hardness comparable to that of steel wire. By thickly bundling the hair, its strength is further increased, also increasing its destructive power. Its name may come from the fact that, as seen just before striking Pain, it takes the shape of what resembles a lion's mouth. 
Ad blocker interference detected!
Wikia is a free-to-use site that makes money from advertising. We have a modified experience for viewers using ad blockers

Wikia is not accessible if you've made further modifications. Remove the custom ad blocker rule(s) and the page will load as expected.