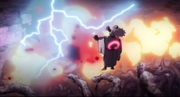 Momoshiki, the man that orchestrated a surprise attack on Konoha. Hiroki Yasumoto will play the voice of Kinshiki, a character said to answer to the dangerous Momoshiki.
Previously, we also reported that Yuko Sanpei will play the voice of Boruto Uzumaki. Kokoro Kikuchi is the voice of Sarada. Meanwhile, Junko Takeuchi returns to voice Naruto Uzumaki, and Noriaki Sugiyama reprises his role as Sasuke Uchiha.
Earlier this month, Weekly Shonen Jump also shared cover art featuring a new tagline forBoruto: Naruto The Movie. The tagline for the main visual reads,""The curtain rises on the legend that will surpass all!!" Meanwhile, a second art work features the tagline: Transcend the legend. Take the reins of the new era."
Ad blocker interference detected!
Wikia is a free-to-use site that makes money from advertising. We have a modified experience for viewers using ad blockers

Wikia is not accessible if you've made further modifications. Remove the custom ad blocker rule(s) and the page will load as expected.