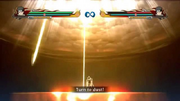 Beim 
Kotoamatsukami: Koubou
 lässt Shisui Uchiha seinen Gegner in eine Kotoamatsukami-Illusion fallen. Im Hintergrund dieser Illusionswelt sieht man eine große Version desMangekyou Sharingan von Shisui, was dann leuchtet, und woraufhin von oben herab mehrere Lichtstrahlen auf den Gegner fallen und diesen anscheinend zu Staub zerfallen lassen.
Ad blocker interference detected!
Wikia is a free-to-use site that makes money from advertising. We have a modified experience for viewers using ad blockers

Wikia is not accessible if you've made further modifications. Remove the custom ad blocker rule(s) and the page will load as expected.