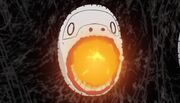 Kakuzu's fire-element mask fires a small fireball that erupts into a giant fire-storm after making contact with a surface, causing widespread destruction to the area. Since the flames travel along the ground, and cover such a wide area this is a difficult technique to evade. When combined with Wind Release: Pressure Damage, this technique is amplified to the point of being able to evaporate a large amount of water in an instant.
Trivia Edit
Edit
Like the rest of Kakuzu's techniques, the name of this technique comes from the legendary mecha anime "Mobile Suit Gundam" (機動戦士ガンダム, Kidō Senshi Gandamu). The name Zukokku was taken from the Gundam MSM-07 Z'Gok (ズゴック, Zugokku). The name was altered slightly and given kanji to create the name of this technique.
Ad blocker interference detected!
Wikia is a free-to-use site that makes money from advertising. We have a modified experience for viewers using ad blockers

Wikia is not accessible if you've made further modifications. Remove the custom ad blocker rule(s) and the page will load as expected.