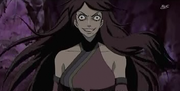 A technique for physical restraint, quite as if the opponent had been tied in invisible steel ropes. This is a basic ninjutsu usable even by genin, but its intensity will vary greatly according to the user's level. In addition, depending on the user, the technique can be cast on every target at once, and won't fail a shinobi during his missions. This debilitates the victim for a short period of time, which allows the user to either strike again or, in some cases, take the target into custody.
TriviaEdit
Edit
Fūka can execute this technique by simply looking into her victim's eyes, showing how much precision in chakra control she must have and giving her the metaphorical connection to Medusa.
Ad blocker interference detected!
Wikia is a free-to-use site that makes money from advertising. We have a modified experience for viewers using ad blockers

Wikia is not accessible if you've made further modifications. Remove the custom ad blocker rule(s) and the page will load as expected.