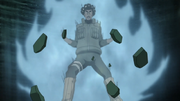 The 
Eight Gates
 are eight specific tenketsu on a person's Chakra Pathway System. They limit the overall flow of chakra within a person's body. The basis for the idea of the chakra gates comes from the body's limits on the functions within it. This makes the body much weaker, but it keeps the body from expiring too soon. By undergoing intense training, one can learn how to open these gates allowing the user to surpass their own physical limits at the cost of extreme damage to their own body.
At age 17, Rock Lee has demonstrated the ability to open the first six gates.[1] Might Guy, who taught Lee the skill, is able to open all eight. Kakashi Hatake can open at least one gate, as shown during his one-handed rock climbing where a shot of his brain shows the relevant point activating,[2] as well as in his usage of the Front Lotus in the anime.[3][4] Opening the gates is a difficult feat even for the most talented ninja, as Kakashi, a talented ninja himself, was surprised to find out that at that time, a 13-year old Lee could open as many as five of them.[5]
Due to the immense amount of chakra flooding the body all at once, drastic changes can occur upon the user's body. The most common of these changes are the changes to skin colour, eruption of veins around the temples, and the eyes turning completely white. The green aura surrounding the user could be easily mistaken as chakra as in Kisame's case when fighting Guy. Guy corrected this misconception explaining that the green substance surrounding him is his sweat evaporating at a rapid rate, due to the intense rise in body temperature of the user.[6]
The state of having all Eight Gates open is known as Eight Gates Released Formation. Any shinobi who activates this state will temporarily gain powers a hundred times greater than their normal self, but will die because of the damage done to their body.