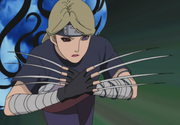 This technique allows the user to temporarily enhance the normal growth of the nails on both their hands and feet, causing them to grow considerably longer in a short space of time as a result. It also seemingly enhances the durability of the nails, allowing them to even clash against swords without breaking.
Ad blocker interference detected!
Wikia is a free-to-use site that makes money from advertising. We have a modified experience for viewers using ad blockers

Wikia is not accessible if you've made further modifications. Remove the custom ad blocker rule(s) and the page will load as expected.